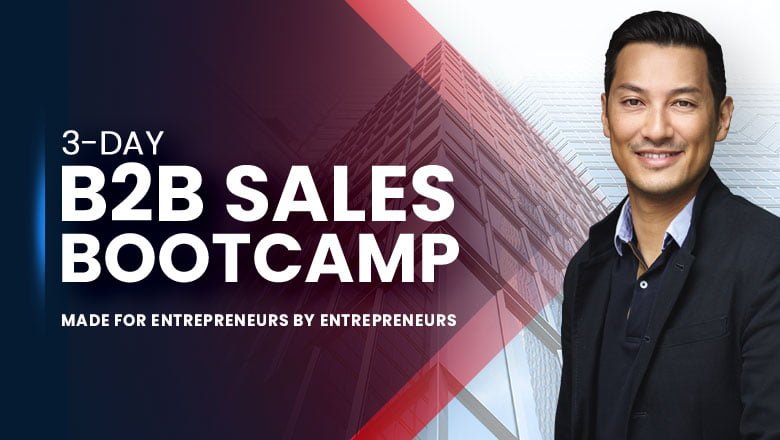 Our 3-day b2b sales training to help you amplify your sales skill
Perfect for business owners without sales backgrounds to high-end business development professionals.
Are you a busy business owner who wants to make game-changing deals and are dissatisfied with their current rate of growth?
The B2B Sales Bootcamp will show you and your sales teams how to sell powerfully, confidently and ethically and will enable you to structure, negotiate and close larger deals with more skill and less effort.
Unlike other B2B sales trainings where trainers teach concepts but don't walk the talk, we use our proven sales techniques in-house, achieving 8 years of consecutive growth, helping us nearly double in size each year.
This means that the battle-tested selling practises taught and simulated in real-time at this 3-day B2B sales training will help you get tangible results for you and your sales team. You won't only be learning and enhancing your skills, but making 'live' sales during the program.
Rather than miss out on lost opportunities because you are great at what you do, but aren't professionally trained at sales, by developing first-class selling skills with Magnetic Alliance, you can beat your competition, continually grow your business and reach your financial goals!
Get in touch with us now to know more about our B2B Sales Training!
What is included in the b2B Sales training?
What can you Get from our 3-day B2B Sales training?
If you want to learn how to structure, negotiate, and close 6, 7, and 8 figure deals, we can show you how we've done it for our own and how you can do the same for your business.
If you want to learn how to negotiate huge deals, we can show you how we wrote $994m+ worth of contracts for our clients that we personally negotiated, so you can easily land high-end deals in any challenging sales environment.
If you want to master the art and science of closing deals, we can show you a clear and simple proven process for powerful B2B selling, so you can use it as a framework to achieve your sales goals across any industry.
If you want to be an expert in ethical B2B selling without being salesy or pushy, we can show you how we retain our long-term raving client base, so you can apply the same principles whenever you land high-value clients.
If you want to make B2B selling effortless and painless, we can show you the pre-requisites required, so you can have confidence in making deals and closing a sale fast while being able to handle objections professionally.
If you want to build long-term win-win relationships with your clients, we can show you how we've maintained ours well over the years, so you can build strategic alliances which lead to further opportunities far beyond what your clients are doing with you today.
Get access to our online sales program that will continually evolve and get more valuable over time as we keep adding more modules, interviews, case studies, so you will always have a quick guide to look back on when doing sales.
Learn how to identify the right deals for you that gets you working with the right clients and filter out the ones that waste your time and resources, so you can focus on being your best, and not being spread thin.
Why Choose Magnetic Alliance
Exclusive workshop developed to help you get the right clients, land powerful B2B deals, and close a sale effectively from Australia's #1 Multi Award-Winning Firm for Business Growth and Development
Our proven track record of helping clients get results, adding over $1.45 billion in revenue for clients in over 120+ industries.
Get access to our end-to-end ecosystem of unique services designed to help businesses grow.
Let's Transform Your Business!
Keep in touch for valuable tips on business growth!