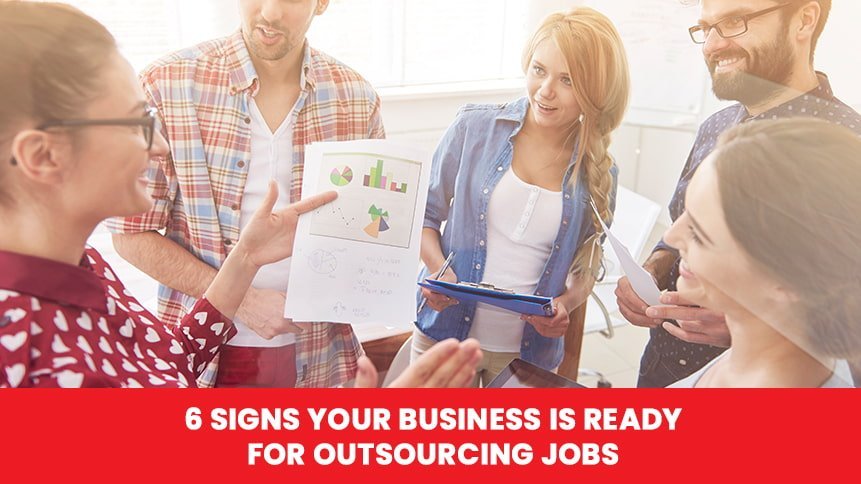 Why are there benefits of outsourcing? How do you know if your business is ready for outsourcing jobs?
Ask any business owner, they've uttered those words at some stage and fully expect to say them again. Running a business can be a total rollercoaster and one of the hardest decisions a business owner needs to make is when and how to add to their team.
It won't come as a shock to hear that the first sign you're ready to outsource something from your to-do list is when you are ALWAYS busy. This is the perfect time to introduce a personal assistant or business manager. This type of work is perfectly suited for hiring offshore in the form of a virtual assistant (VA).
Imagine delegating all that busy work you do to someone whose job it is to be on top of it all. Things like finalising quotes, booking meetings and appointments, booking travel, following up, and providing GREAT customer service.
This was how I was able to get started and keep my sanity in my first year in business. I hired 2 VAs in the Philippines to help me out with almost everything that I was doing. What it led to was the ability to hire 10 people locally. Yes, actually creating jobs, thanks to outsourcing, not losing them like some would have you believe!
CHECK OUT OUR VIDEO SERIES ABOUT HOW OUR OUTSOURCING PROCESS WORKS:
Besides being busy, what other signs indicate you're ready to bring on additional team members or outsource work? What are the benefits of outsourcing?
One thing we know for sure is not to wait until you are desperate!
Some of the worst advice we've ever heard passed from one business owner to another is to do as much as possible yourself until you simply cannot do anymore and that's when you know it's time to add someone to your team.
By the time you and your existing team are at breaking point, there's a good chance you've already done damage. Morale falls through the floor when everyone feels overworked and important details get glossed over. Suddenly, you feel like you're winging it and hoping for the best and that's not a great recipe for a successful business.
Keep your eye out for these signs and you'll know when it's time to consider outsourcing jobs…or, better yet, investing in an offshore staff member. You'll also discover that there are a lot of benefits of outsourcing. 
1. Not doing the stuff you enjoy doing (and are great at)
There are times when all business owners find themselves wearing more hats than they should be. They know that they need help managing their business but don't know where to start with finding help.
When someone starts a business, they don't realise that they'll need to do more than providing the core business function: that thing they're great at. They'll also need to be the marketing, sales, finance, and HR departments.
When you're wearing too many hats, it's easy to get disenchanted and feel like your business is more labor than love.
In the early stages of business, it's common to DIY as many tasks as possible to help keep costs down. Beyond the start-up phase, we'll absorb extra jobs that need doing because:
It seems easier than showing someone else how
You don't think you have the resources to add to the team.
At some stage doing stuff you don't enjoy (and possibly aren't great at) will start to hurt your business.
On one hand, you're eating into the time when you could be doing higher-value tasks. Not to mention, doing stuff you don't enjoy often means it takes longer than it should so you put it off and up making you resent your business.
When we started Magnetic Alliance, I certainly know there were things I hated doing! Fortunately for me, my assistant was able to take those tasks away and free me up to do what I enjoy doing!
Chances are, you started your business because you were great at something and genuinely enjoyed doing it. All the support stuff can, and eventually, should be done by someone else. This allows you to do what you do best.
Outsourcing and offshore staffing are perfect for the supporting services that a business needs but don't represent the core service they provide.
If you or your team are doing too many things that aren't adding value in the right places then it's time to consider outsourcing.
2. Costs getting out of control
Spiraling costs leading to lack of profitability is the most common reason that businesses fail.
Employees can account for 70-80% of a business's fixed costs. So, for a business that's in a financial crisis, downsizing its number of local employees can offer relief. But that's not how Magnetic Alliance likes to approach this subject because it's better to address cost problems before they get out of control.
Bookkeeping, payroll, and data management are services every business requires that can be easily outsourced. Business owners often keep these functions in-house or, worse, do them after hours at the last minute. Because they're procedural in nature and repeated often they're easy functions to outsource, especially if it's not a full-time job.
Up-to-date bookkeeping and cost reporting helps you to manage your business finances, make better decisions, and stay on track without getting a nasty surprise at the end of the quarter.
If you're not clear on your financial position or managing it yourself after hours then it's time to look for outside help.
3. You don't know where your next client is coming from
It's no secret that if you don't market your business, you'll find it hard to attract new customers. There are many options available to business owners in terms of how they market their business. Consequently, many business owners fall into the traps of inconsistency, ad hoc, and DIY.
Understanding how and where you'll find your next client is critical for predictability and long-term growth.
Your business should have a well-developed marketing strategy that can be implemented with measurable results. You should also have a marketing budget that relates directly to your business income goals. If one or both of these things are missing, then it's time to look for outside help.
Some elements of marketing are better suited to outsourcing to a local expert whilst others can be maintained by your own offshore team. At the top level, a marketing strategist can help you develop a plan, then, the implementation can be outsourced to technical, more cost-effective staff offshore who follow the prepared plan.
Lead generation via telemarketing is commonly fulfilled using offshore staff. In the Philippines, lead generation is a common job so there is a large pool of candidates who've been trained by large corporations.
We do suggest you already have a proven outbound lead generation process in place. This makes sure that they're following a proven process and saving you time because you don't have to do it!
4. You're at capacity, turning down work and other growth opportunities
We're sure that growing your business is important to you. Trouble is, many business owners have a plan to grow their business but don't know what resources they need to actually achieve it. Imagine getting an inquiry from a potential client that would be a game-changer for your business only to turn them away because you're at capacity and can't accommodate them.
Heartbreaking.
Streamlining your business, outsourcing low-value tasks, and developing systems will position your business to grow comfortably. If you've got good systems in place and enough similar tasks that can be packaged into a single role then hiring an offshore staff member is a great option for you.
You can then, free yourself to generate more revenue… happy days!
5. Customer satisfaction is starting to suffer
No business wants to experience a decline in customer satisfaction. For a business running at, or over, capacity customer satisfaction can take a sharp decline if you don't have great systems in place. Emails slip through the cracks and calls go unanswered.
Delegation and automation can come to the rescue when you find yourself unable to keep up with all the work. Amongst other things, a VA can help you out with inbox management, meaning you only have to personally reply to things that need your attention. A VA can also help out with calendar management and act as a gatekeeper for business-related calls.
Properly implemented Customer Relationship Management (CRM) software will ensure that follow-up communications are carried out when they need to be. CRM tasks can be delegated to a VA or member of your customer relations/sales team.
CHECK OUT OUR VIDEO SERIES ABOUT HOW OUR OUTSOURCING PROCESS WORKS:
6. Your business is transitioning from local to global and you need to be accessible 24/7
Whether you're transitioning from local to global or just want to maintain best practices, the reality is we live in a 24/7 world where people expect quick answers.
Whether you're providing a product or a service, there is little stopping you from making it available worldwide. However, 24/7 communication is critical to your success.
Obviously, you can't be available in every time zone but a global support team can be. Staff can be hired to work the night shift handling customer service enquiries in different time zones. Offshore staffing is a perfect solution for companies that are building an international presence.
Next Steps to offshoring and outsourcing jobs
You've identified that you might be ready for delegating some functions, so what are the next steps?
For starters, you'll probably enjoy this case study about how one business owner turned the stress levels in his business from high to low with our help
CHECK OUT OUR VIDEO SERIES ABOUT HOW OUR OUTSOURCING PROCESS WORKS: